"The answer isn't always more tupperware." – My wife.
OK, technically that is correct, but only because the plastic storage bins we are talking about here, aren't actually tupperware. Otherwise, it's wrong, wrong, wrong.
The problem with organization in storage in our basement comes down to the fact that a great deal of the items we store down there are onesie-twosie type things. You can put away a box of stationary, or photo frames, or college yearbooks, or whatever.
But, what if you have one baseball glove, one basketball (OK three…), one soccer goal, and, well, you get the idea. Placing those items on a shelf takes up a ton of room and makes the shelf inaccessible for other items.
Check out the review of Credit Karma I wrote.
The issue in my basement is that I have not purchased the storage bins with the shelving in mind. Thus, many of the bins are too tall. The others are too long so that they only fit sideways. Others are so big, that filling them up makes them too heavy to lift up onto, and take down from, the shelves.
The solution?
More tupperware.
This time, I got storage bins that were smaller. Sure, they don't hold as much each as the older ones, but they fit on the shelves, the narrow way.
The result?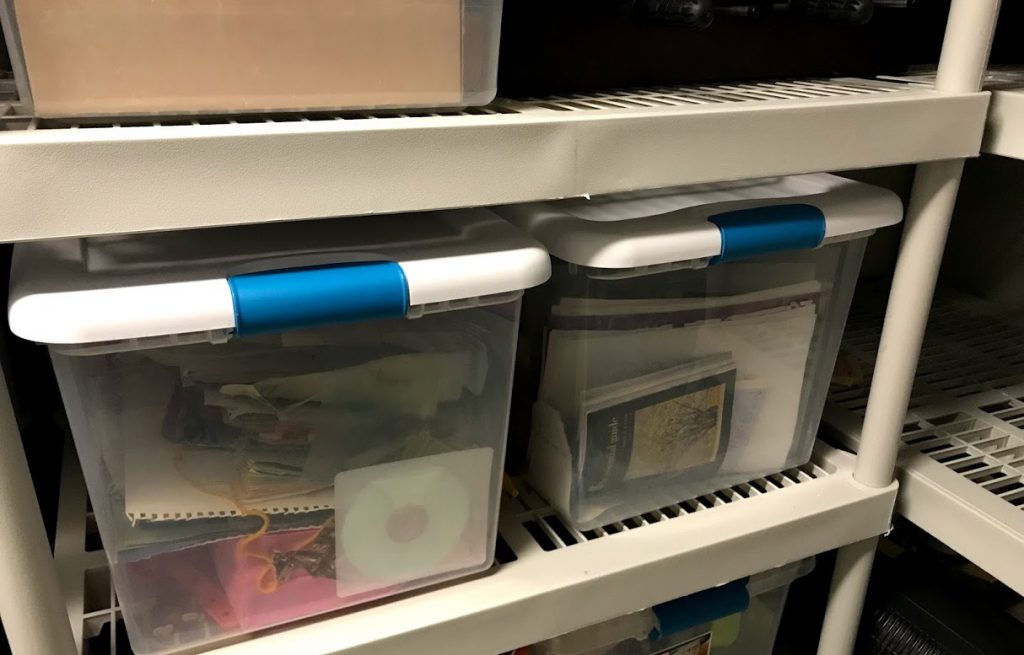 An organized storage room where a bin full of sporting goods sits next to a bin full of the kiddo's robotics and TSA supplies, next to a bin of craft stuff, next to a bin of computer and electronics cables.
I bought the bins on sale, and used Ebates while they were having some sort of higher than usual bonus cash back, so they came pretty cheap. — Check out my review of Ebates that talks about how bonus cash back is the way to go.
In a dose of double brilliance, I got see-through bins. Now, I don't have to label them to know what is in them, which is great for a couple reasons. One, I don't have to find the labeler every time I put up a bin. Two, I don't have to relabel if I switch up the contents, and most importantly, I don't have to guess if the external hard drive is in the bin labeled "Computer Stuff" or "Electronics Stuff" or "Office Stuff."